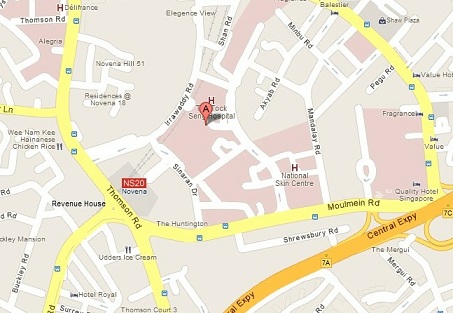 Location Map of Mount Elizabeth Novena

Helpful Information
- Mount Elizabeth Novena has ONLY single bed rooms
- There will be no Obstetrics (pregnancy) services available



Mount Elizabeth Novena Hospital Information

Address: Novena Terrace, Sinaran Drive

Hospital Tel:

Hospital Website:
http://www.mountelizabethnovena.com.sg

Mount Elizabeth Novena is a new private hospital in Singapore to be opened in July 2012. It is not situated at Mount Elizabeth, but at Sinaran Drive, off Moulmein Road, in the vicinity of the Novena Square Shopping Mall. It is also near Tan Tock Seng Hospital, a major public hospital which is a major centre for infectious diseases and geriatric medicine.

There are no twin sharing hospital rooms in this new Novena hospital. All the rooms are single-bedders and the premium suite is reported in the news as costing as high as $12,888 per night. The hospital is built with many considerations for the ultra-rich medical tourists.

Parkway's 3 other private hospitals in Singapore are Mount Elizabeth Hospital (Orchard Road), Gleneagles Hospital and Parkway East Hospital (or East Shore Hospital).


Doctors in Mount Elizabeth Novena Hospital



Not all specialist clinics in Mount Elizabeth Novena Hospital are opened at this point in time. The directory listing will be updated at a later stage.


Pediatric Surgery

Urology

Renal Medicine

Respiratory Medicine

Cardiothoracic Surgery

Cardiology (Non-surgical)

Endocrinology

Oncology (Cancer Specialists)

Orthopaedic Surgery (Bones Specialists)

Dermatology (Skin Specialists)

Endocrinology

Ophthalmology (Eye Specialists)

Neurosurgery

Neurology (Non-surgical)

Rheumatology

Ear Nose Throat (ENT)

Respiratory Medicine

Infectious Diseases

Respiratory Medicine

Rehabilitation Medicine